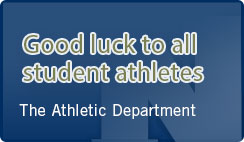 Strength and Conditioning
Summer Strength & Conditioning
The Strength & Conditioning program is designed to promote a healthy lifestyle for student-athletes. The workouts are focused on the physical development of student athletes to prepare them for interscholastic competition.
BIGGER, FASTER, STRONGER
Sessions
PROGRAM DATES: June 26 - August 10, 2017
Days: Monday, Tuesday, & Thursday
Times: 8:30 am, 10:15 am, 6 pm
Students participating in the Summer Strength & Conditioning program, please join our google classroom using the following code: bffr55j
The classroom will be used as a way for our student athletes to track their progress, for the coaches to give workouts for those who are present and those who can't make it, as a way to differentiate workouts and as a learning tool to provide examples of how to safely and correctly perform exercises.

|

|
Share